• HighGround Referral Network
• Rare Innovations & Essentials
• Curated Support | Events | Creative Success
A Life-Style that's Extraordinary. Work that defines your best.
Here is where your Genius lies ™
---
From ordinary to extraordinary there are steps involved...™
---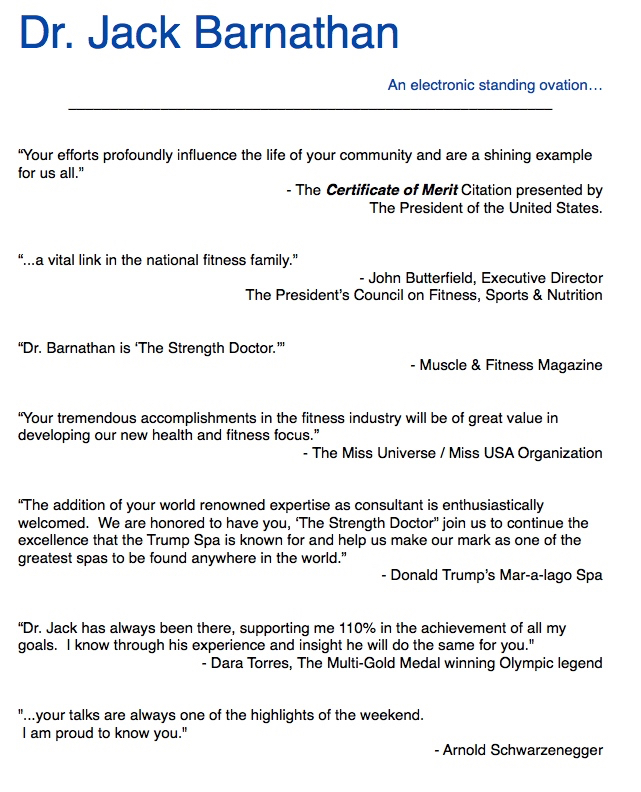 Dr. Jack Barnathan is an acclaimed, multi-award winning sports doctor and fitness science innovator, business branding and marketing consultant (having dual degrees in both the sciences and a B.B.A. in Accounting) and serves the boards of over a half dozen charitable organizations.
• He has 'worked-out' at The White House with elite athletes and The President of the United States.
• He advised on the equipment choices for the new gym serving The White House, and the fitness trainer for members of the Cabinet.
• He conceived and created a National Symposium on Natural Fitness for athletes, fitness professionals and physicians with Arnold Schwarzenegger serving as keynote each year of this annual event, presented as part of the largest Fitness Expo in the world.
• The President's Council on Physical Fitness and Sports named him a "50th Anniversary Partner" and cited him as "a vital link in the national fitness family."
• He has served as a repeat lecturer at The Kennedy Space Center with Space Scientists, Astronauts and the Chief Medical officer of NASA in attendance.
• His lectures on "Space Exploration - Fitness Innovation" were archived by NASA for future instruction.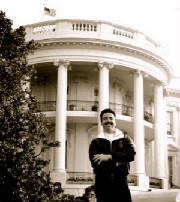 A work-out at The White House, in celebration of Nat'l Physical Fitness & Sports Day
Early in his career, Dr. Jack Barnathan was the director of a highly engaged community crisis Hotline, active in fight against drugs and despair. He created one of the first Hotline / Support Centers for the physically and learning disabled (before Federal legislation mandated it), and hosted the first ever National Conference of Hotline Directors - all before the age of 21.
He has advised legends of sports, fitness, the performing arts, and executives from leading corporations on his unique strategy for creating profound change and lasting transformation. Of the over 100 events and speakers at Arnold Schwarzenegger's annual Fitness Expo (the largest in the world with over 20,000 participants in 2 1/2 days), the Governor proclaimed Dr. Barnathan's workshops to be "one of the highlights of the weekend for me - I am proud to know you."
He designs for each client unique tools essential for profound change and profession leading excellence that drives inspired, lasting success.
His ground-breaking presentation on "Fashion, Fitness, the Future" created a stir by arguing that the the most effective, and therefore, valuable part of the Fitness and Diet "industry" is in truth, and "accessory" of the Fashion and Design world. The ignorance of this fact being the reason this 100 billion dollar a year industry has been in stagnation for decades, and doomed to decline if continuing on it's path of "fitness as "a distraction, damaging fads masquerading as 'growth,' or merely an entertainment."
Dr. Barnathan's innovative "Esprit Inspiré" system provides a powerful "high-ground platform" for a dramatically new definition of "Fitness." This resulting in a new "blue ocean" arena where both the industry driving fashion, design and style and a new vision of Fitness and Meal Design would become a dynamic cross-support of both business entities, with an exciting, scientifically sound, yet thoughtfully styled vision for personal growth and expression: a specialty of Fitness Design and the Transformative arts™.
Lecturing at The Kennedy Space Center
He defines this fresh approach to exceptional service (and the success that follows) through his one of a kind:
• live and virtual workshops • private coaching • corporate consulting
• media presentations • exclusive invitation only events.
• the highly exclusive Experts & Artisans.com referral network, providing the best individuals and services representing "high ground standards" for exceptional life-style design.
The core of Dr. Jack Barnathan's unique system lies in his ability to find, fine tune and engage what he refers to as, your "unique strengths." When properly focused, they will drive the success you deserve through exceptional service, shared with a thoughtful yet powerful Branding and Marketing message.
It is here, he will argue, that your true genius lies.
The ability to find and engage these strategies for change and growth are skills he developed into a powerful system early on during his days as the director of the crisis / drug / suicide prevention hotline. An art that he mastered in an environment with literally no room for error, and fine tuned throughout a career serving some of the worlds elite achievers.
In recognition of his selfless commitment to the nation, The President of the United States awarded Dr. Barnathan the "Certificate of Merit," citing him as "a profound influence and shining example for us all."
His book: "The Search for Strength" will be released in 2017.
Creative consulting and coaching
Special programs, workshops, exclusive retreats & events