Consulting with Dr. Jack Barnathan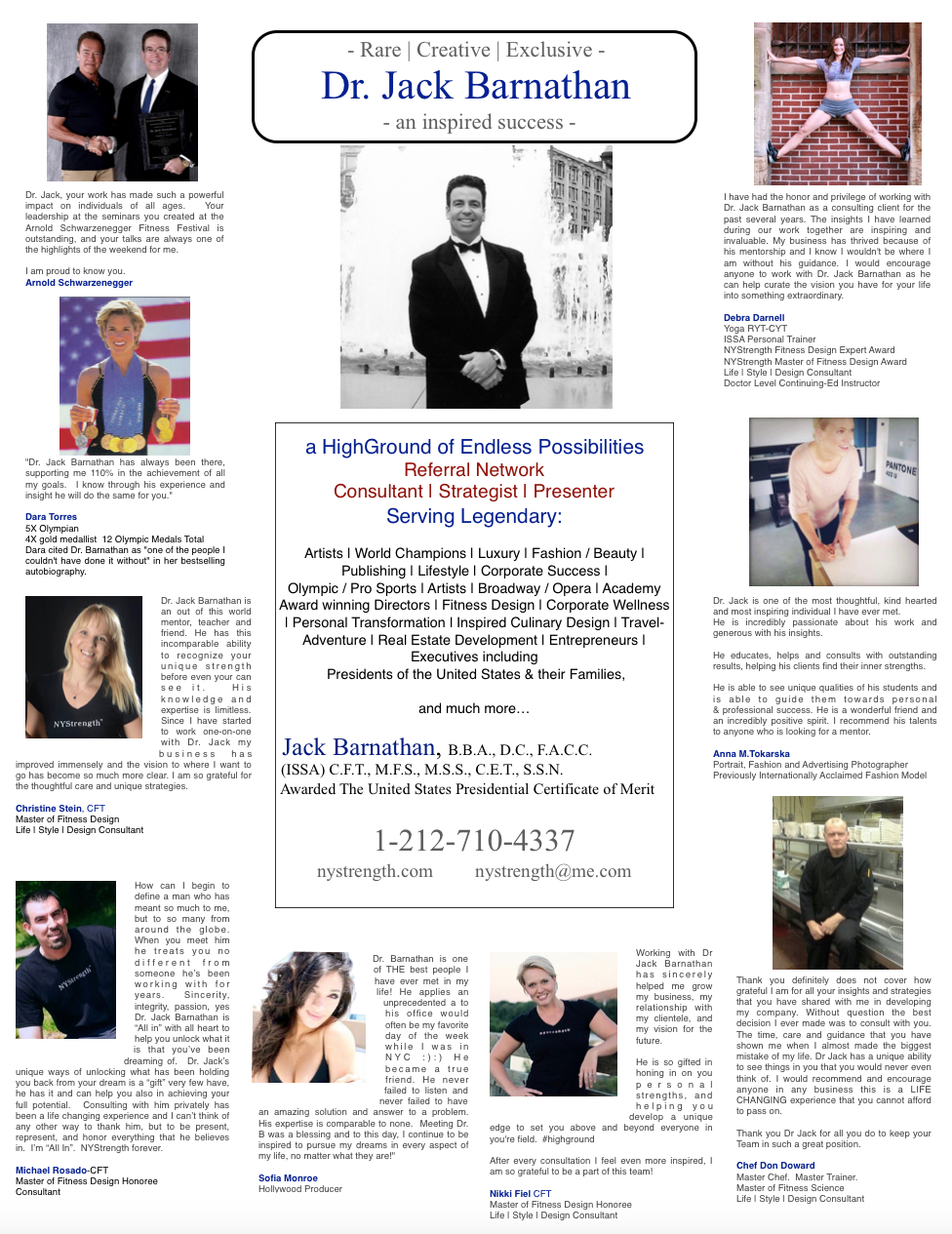 ---
From ordinary to extraordinary there are steps involved™
---
It's time for a highground standard.
A thoughtfully designed strategy for personal transformation and professional success.
Own your Power of Presence™.
Present an inspired service, style,
energy
and
outlook that's uniquely yours.
Finally. Emphatically.
Establish a standard of service that is
nothing
less than exceptional.
---
• Personal Transformation

• Exceptional Service Design

• Professional Branding and Marketing
---
Meet with Dr. Jack Barnathan over lunch and discuss how your dreams can move toward a powerful reality that very day.
Have an in depth discussion about your dreams for the future and how the STRENGTHS you already possess, when clearly focused, can play a powerful role in defining your success and attract the market you can best serve.
Unlike other consultants who try to make you feel bad about past missteps (believing it will make them seem more "valuable" to you) we instead find and help you embrace the powerful winning qualities you already possess, and focus them toward a worthy goal.
---
Special one time meeting package includes our 'patented' Visionairre™ Profile and one on one meeting with Dr. Barnathan (at least 90 minutes, but often longer if needed).
You will leave with specific steps to take in order to best fine tune and share your best for a success that is profound, and enduring.
You can choose our one time consultation, or discuss other long term consulting packages we provide.
We look forward to your call so we can discuss the opportunity that would be best for you.
The choice is yours to craft a future you desire and deserve. But, do remember appointments are limited. Don't miss out on this opportunity to make your dreams a reality. Call today.
Dr. Jack Barnathan has served some of the world's great achievers.
From pro and Olympic sports legends, stars of Hollywood, Broadway, Ballet and Opera to leaders of the Fortune 50, along with their corporations, employees - and so much more. He designs for each client unique tools essential for profound change and standard setting excellence that drives inspired, lasting success.
He defines a fresh approach to exceptional service (and the success that follows) through his one of a kind:
• live and virtual workshops • private coaching • corporate consulting
• media presentations • exclusive invitation only events.
The core of this unique system lies in his ability to find, fine tune and share what he refers to as, your "essential strengths™." When properly focused, they will drive the success you deserve through exceptional service design, properly communicated with thoughtful Branding and Marketing.
Here is where your genius lies . . .
A skill he has developed into a powerful system early on during his days as the director of a crisis / drug / suicide prevention hotline. An art that he mastered in an environment with literally no room for error.
He further perfected this system as a multi-award winning doctor specializing in sports and fitness performance, serving individuals from all walks of life, including a specialized group of elite athletes, performing artists and Olympic legends seeking Dr. Barnathan's system to support their quest for excellence.
He now applies these strategies for businesses and their executives seeking excellence in their service and exceptional achievement as a result.
He defines this as "fully owning your power of presence." Unlike others who attempt to "force an image" from the "outside," he teaches you to let your own unique "style drive success."
But this doesn't just happen on its own. It requires work and a system that clearly and consistently sets you apart and makes your work truly one of a kind, invaluable and therefore, irreplaceable to the market that needs you most.
"Owning" your "one of a kind strengths" will build a powerful, enduring "brand" and the foundation for all profound success.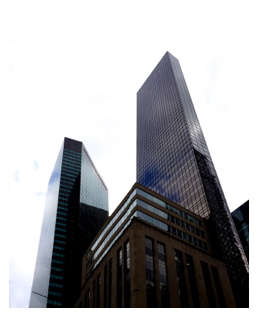 NYStrength (L), Tiffanys (c), Trump Tower 5th Ave (R)
♦ Inspired Success
A consulting firm and educational platform of customized strategies for exceptional service, branding and marketing for an inspired win that endures.
A proven strategies for:

• Owning your Power of Presence™ The Art of defining your 'brand' as a unique statement of excellence, resulting from your one of a kind approach.

• Executive Excellence™ Fitness & Performance Design: to lead from your inspired vision, with a style, strength, energy and outlook™ to motivate your team and captivate your market.

• Corporate Team Training: to develop your employees into a focused community. Our employee training has a difference - it includes "wellness" and "life style" enhancing insights from acclaimed experts, and unlike all others, includes your market in this process. The result: a respect from both customers and their servers for a business that is truly "sustainable" and community renewing in it's goals.

• Communication skills (meaningful branding / marketing) to impact the community / market that needs you most. Designed to present you as "one of a kind," invaluable and therefore Irreplaceable to those you serve.
A Consulting Firm and more . . .
Let him apply the inspired success strategies he has used to help individuals and corporations from all walks of life, including legends of sports, fitness, the arts, health care, space exploration, charitible organizations, native american nations, the most exclusive Spa's, and the top of the corporate world all achieve a new, inspired vision, and strategy for profound success.
To establish a power of presence that's
Centered, Certain & Strong™.
By clearly establishing that which makes you "one of a kind" and unique, your market will vew your work as truly invaluable.
You will become the best choice. The only logical choice.
This is our goal; to make truly irreplaceable to those who need you most.
designs give you the
steps to build:
• An exceptional service design that is current with the changing market you serve.
• Creative branding of both you and your service.
•
Marketing that communicates your unique difference.
• Acclaimed workshops, e-updates and support from an international team of experts & artisans™.